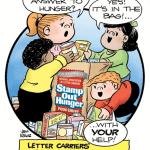 Thank you for helping us fight hunger one bag at a time. This year we received over 18,000 pounds of food valued in excess of $30,000, a 61% increase over last year!
Thank you to Laddawn, located in Devens, who donated 18,000 bags which were placed in nearly all residential mailboxes in our service area.
Thank you to our local post offices, Loaves & Fishes Coordinator Nancy Ohringer, the many volunteers who supported the effort, and to everyone who donated.
A slideshow of photos from this year's drive: