Note: this event has already taken place.
The Rotary Club of Acton Boxborough and Rotary Club of Littleton are sponsoring the 3rd Annual Masquerade Ball for the benefit of local food banks, including Loaves & Fishes Food Pantry!
Save the date!  Saturday, November 7th at the Holiday Inn, Boxborough, MA
Cocktail Hour Starts at 6:30PM
Join the Roaring 20s for an evening!  Click here for all the information!
Click here for Sponsorship opportunities
Click here for Sponsorship form
Note that this event has already occurred.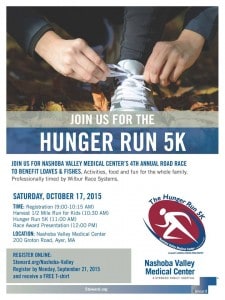 Nashoba Valley Medical Center's 4th Annual Hunger Run to benefit Loaves & Fishes Pantry in Devens, MA on Saturday, October 17, 2015.  Click here  to  Register today!