Category Archives: Uncategorized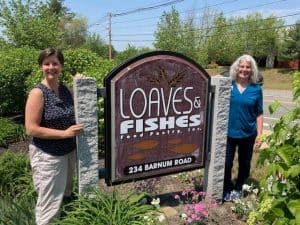 GOOD-BYE AND BEST WISHES!  We're sad to say good-bye to Theresa Wilson, Client Services Coordinator, and Sherrie Forest, Volunteer Coordinator, as they both move onto the next chapter in their lives. Thank you for all you've done for the Pantry ladies and our best wishes in your next adventure!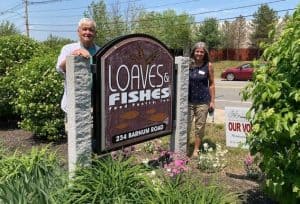 WELCOME TO THE TEAM!  We welcome Bill Loehfelm as our new Counselor and Paige DiPietro as our new Volunteer Coordinator! Please stop by and say hello to them. Grace Miller will be assuming the role of Client Services Coordinator.
YOUR SUPPORT GIVES HOPE TO OUR NEIGHBORS IN NEED, LIKE TANYA, KEN AND THEIR TWO CHILDREN
"We were doing okay until the Pandemic hit.  Ken's hours were reduced, our son, Collin, was diagnosed with health issues and I had to resign from my job to care for him. We've struggled to pay the medical bills, mortgage and utilities.
We learned about Loaves & Fishes from a friend, and what a relief – kind, compassionate staff and volunteers, nutritious food and a safe, no-touch drive-thru!  We are so grateful for the support we have received and especially thankful that we have the Pantry to help us put food on our table."
-Tanya, a Groton resident

THANK YOU IN ADVANCE FOR YOUR SUPPORT!