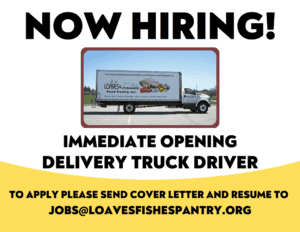 Overview
The Delivery Truck Driver is responsible for driving the Loaves & Fishes 24' truck in making routine and special pickups and deliveries to/from the Greater Boston Food Bank (GBFB), food donation sites, food drive locations and other area pantries. Responsible for ensuring delivery loads are secured, delivered and unloaded according to pre-established schedules. Ensures the truck is maintained and cared for according to proper procedures. Reports to the Executive Director or delegated staff member.
Hours and Benefits
This is a part-time position working approximately 15 hours per week typically on Monday, Tuesday and Wednesday. Schedule is subject to change with advance notice.
Other local special pickups and deliveries may be added to the schedule as needed.
Position offers an hourly rate of approximately $21 and a $1,000 hiring bonus.
Position offers paid time off and holidays.
Qualifications
All Loaves & Fishes Food Pantry, Inc. staff and volunteers are required to provide proof of COVID vaccination.
High School education plus 3 years driving experience. Must demonstrate a safe driving record at time of hire and on an ongoing basis subject to an annual Motor Vehicle Record/Driver's License check.
Must provide initial proof of medical clearance to operate a truck and every two years after that.
Must be able to comfortably drive and maneuver a 24' truck (No CDL required).
Must be physically able to operate a pallet jack and lift gate and lift up to 50 lb. boxes, cartons and other objects/deliverables.
Must be reliable in executing established schedules and plans, and communicating any issues. Able to adapt to scheduling changes when demand changes and/or emergencies occur.
Has a commitment to the mission and goals of Loaves & Fishes Food Pantry, Inc.
To apply please send a cover letter and resume to: jobs@loavesfishespantry.org
Loaves & Fishes Food Pantry, Inc. is an equal opportunity employer.