There are many ways to help at Loaves & Fishes!  The first step would be to attend a New Volunteer Information Session.  We hold these sessions at our location:  234 Barnum Road, Devens, MA.
The New Volunteer Information Sessions have been cancelled until further notice.
If you plan to attend one of the New Volunteer Information Sessions listed above, or have questions regarding volunteering, please email our Volunteer Coordinator at: volunteer@loavesfishespantry.org.
It's simple – get involved today – and get your family and friends involved.  Explore the ways to help by reviewing a list of all of the volunteer activities available.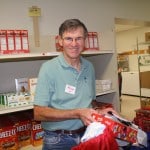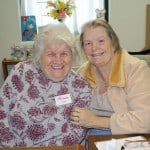 STOCKING SESSIONS ON MONDAY & WEDNESDAY EVENING AS WELL AS FRIDAY AFTERNOON BEFORE THE SATURDAY SESSION HAVE BEEN TEMPORARILY CANCELED UNTIL FURTHER NOTICE.
Receive, date check, sort and stock shelves with donation goods. This task is done on Monday and Wednesday evening from 7:00p.m.- 8:00p.m, and the Friday afternoon before the Saturday sessions, from 3:30p.m.-4:30p.m.