Have you seen the newest addition to our operation?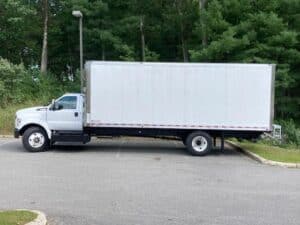 Thanks to a grant from The Greater Boston Food Bank and a state budget earmark supported  by Senator Jamie Eldridge, Loaves & Fishes is the proud owner of a shiny, new F650, 24′ insulated box truck!
For the past 1 1/2 years we have been struggling to find a way to pick-up our orders from The Greater Boston Food Bank. During this difficult time, many local businesses offered their trucks and/or drivers to help us. We are very grateful to the following companies for their support: New England Apple-Leominster, Bursaw Gas & Oil-Acton, Wilson Brothers-Pepperell, Bull Run-Shirley, Habitat for Humanity and long-time supporter, Bemis Associates-Shirley.
Even more exciting news…we are very happy to announce that not only will the truck be picking-up our orders from the Food Bank, but we'll also be helping other local pantries retrieve their orders! Our new pantry partners include: Acton, Bedford, Pepperell and Townsend!
Stay tuned…we're planning a celebration soon!