It takes a lot of food because the need is great!
In an average week, 11,500 lbs. of food is distributed to our neighbors in need
Over 539,000 lbs. of food was distributed last year
697 families representing 1,841 individuals visited the Pantry last year
Those families made 5,306 shopping trips to the pantry
We depend upon your generosity to meet the growing need for nutritious food.
See the list of what we can and cannot accept if you are unsure about what to donate.
Most Needed Items
Ensure
Broth/Stock
Canned Peaches
Canned Pineapple
Flavored Rice
Cocoa
Canned Meat
Hearty Soup
Pie Crust Mixes
Diapers size 4 & 6
Poise: size small
Depends: size small and medium unisex
*Please refrain from donating extra-large "family" or "super-sized" food and personal care packaged items.
Organize a Food Drive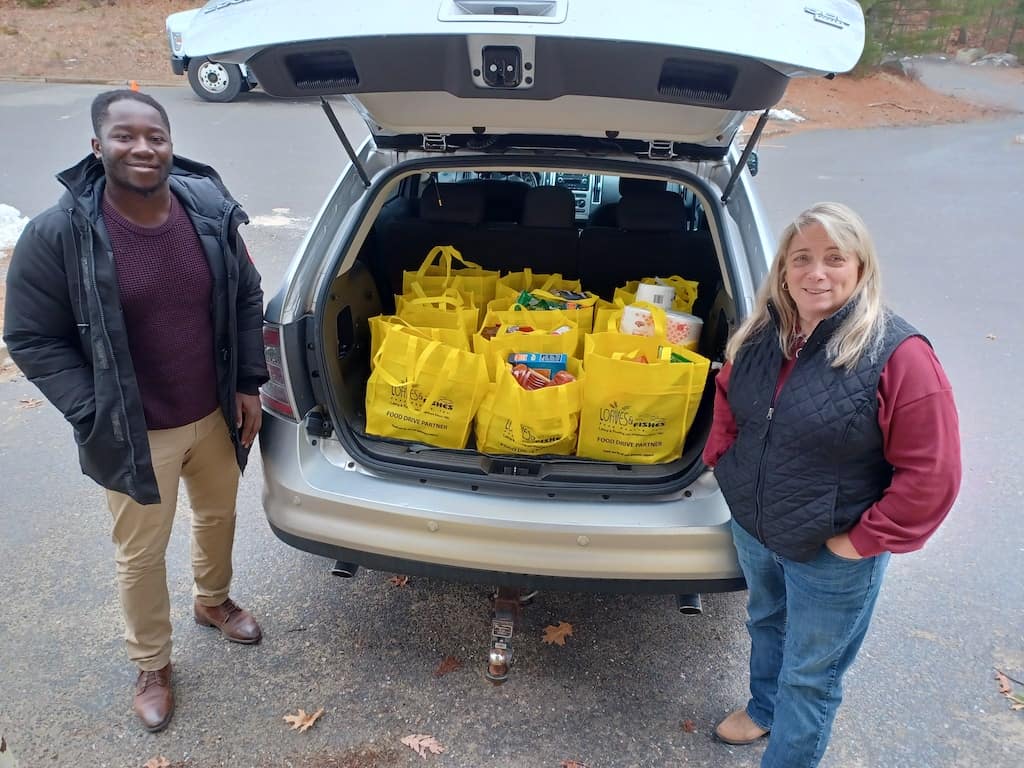 Donation Drop-Off Times
Donations may be dropped off at the loading dock of the Pantry during any Open Pantry Session or during stocking session.
Open Pantry Hours
Wednesday, Friday 9:00am to 12pm
(Closed Friday before Saturday session)
First Tuesday 5:00pm to 7:00pm
Third Saturday 9:00am to 12:00pm
Open Pantry Dates
November 1, 3, 7, 8, 10, 15, 18, 22, 29
Closed Friday, November 17th and Friday, November 24th
December 1, 5, 6, 8, 13, 16, 20, 22, 27, 29
The December Holiday distribution will be on the 18th
Closed Friday, December 15th
Weather Related Closings
For weather-related closings, please check for news posts here on the website, follow us on Facebook or call us at 978-772-4627 to listen to a recorded message.
Download or print the pantry calendar (PDF)
Food Drives
Please contact the Food Coordinator to schedule a drop-off date.
Stocking Sessions
Tuesdays 10:00am to 12:00pm
Thursdays 1:00pm to 3:00pm
Have a Question?