Donate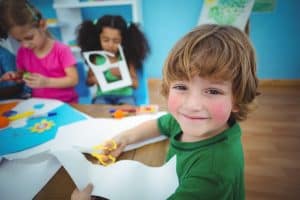 Your generosity relieves food insecurity for neighbors like Tommy and his mom
Donate Now
Please note that we have changed our online donation form and processing partner. If you have given online with us in the past, you may have expected a different form. We're now using this form directly on our website and partnering with Paypal to process credit card (no Paypal account needed) and Paypal payments. This change allows us to put more of your generous donations to work reducing food insecurity. If you have questions about donating, please contact us.
---
Too many times Tommy opened the fridge door and cupboards and found little to eat. Erica, Tommy's mom, worked two jobs trying to pay the bills and provide for her son but there often wasn't enough left for groceries. Erica's co-worker told her about Loaves & Fishes and encouraged her to visit.
"I've been struggling to make a good life for Tommy, but the truth is that we both often went to bed hungry before I found Loaves & Fishes. I am grateful to the volunteers and donors who support the Pantry — they have fed us and given us hope."
Choose a preset donation amount or enter your own custom amount. Descriptions for preset donation amounts are examples. Your donation will be used wherever it is most needed in our programs and operations.
Note that recurring donations run monthly for 24 months. At the end of 24 months you need to enter a new recurring donation with an up-to-date credit card.