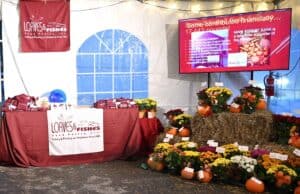 Due to the pandemic, we haven't had an in-person Annual Meeting since 2019 and the 2022 Meeting didn't disappoint!  Over 80 guests – donors, volunteers, staff, and clients – gathered beneath a beautifully decorated event tent on October 17th right in the main parking lot of the pantry. The rain didn't dampen the celebration as we enjoyed a delicious buffet, beautiful music, and great company.  We reflected on everything which has been accomplished in the past year, honored some outstanding volunteers for the gift of their time, and spotlighted some great community partners.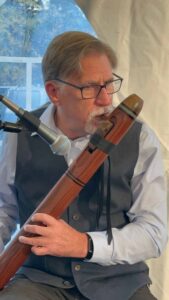 John Gass, flutist, provided beautiful music as our guests arrived.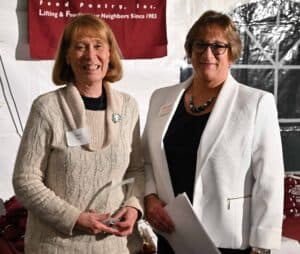 Jane Logee, was the recipient of The Charlanne VanWormer award which honors an individual who has not only been a longtime, dedicated volunteer at L&F, but has also offered her time to volunteer for other community groups.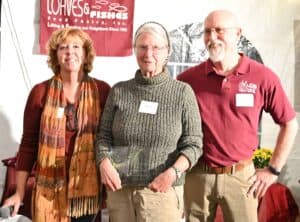 Lynne Roper was presented with the Grande Award which recognizes an individual who has given above and beyond to the Pantry.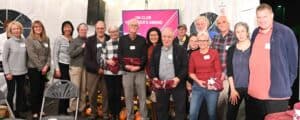 The 100 Club – These individuals were recognized for giving the gift of 100 or more hours of their time.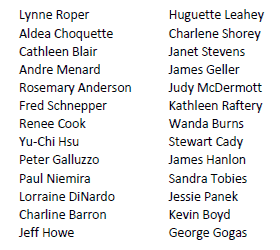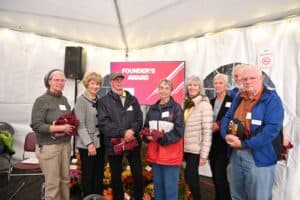 The Founders Award – These volunteers have given 10 or more years of service to Loaves & Fishes.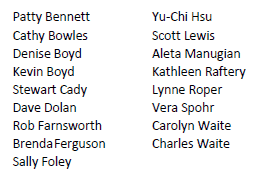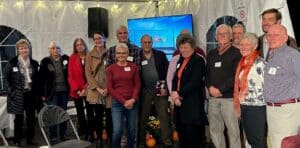 Truck Program Thank You – It was our pleasure to honor the many people who helped us acquire our new truck!  Thank you to Jonathan Tetrault and Chelsea Alexander from the Greater Boston Food Bank, Paul Niemira, Aldea Choquette, Andre Menard, John Cauley, Diane Douglas, Anna Kularski, Jeff Howe, Beth Walker, and Dan Routhier.
Thank you also to the following people who were also instrumental, but were unable to attend: Jim Hanlon, Paul Musgrove, Don Siegrist, the team at Gervais Ford – John Gervais and Paul Debettencourt, Joe Harrington – insurance agent, and Senator Jamie Eldridge.
We were also very pleased to have representatives from two of our partner pantries attend. We work together with six different Massachusetts partner pantries to help them transport their food from the Greater Boston Food Bank. Thank you for coming, Donna Bottari from the Acton Food Pantry, and Kathy Colavito and Robin Crocker from PACH, a food pantry located in Pepperell!
Our other partner pantries who were not in attendance are Townsend Ecumenical Outreach, Medway Village Church Food Pantry, Medway Food Pantry, and Bedford Community Table and Food Pantry.
The Groton Neighborhood Food Project was honored for their hard work and innovative approach to food drives. Thanks to their efforts, over 196,949 pounds of food have been collected since 2014 when the program began.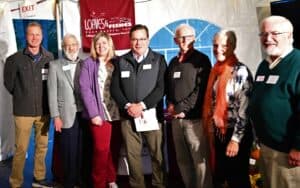 The Board of Directors was in attendance. Pictured from left to right: Hugh Silk, Jim Breslauer – President, Alexis Forest, Paul Musgrove – Treasurer, Jeff Howe, Beth Walker – Clerk, and Joseph Knox.
Unfortunately, Susan Edgett – Vice President, Hilary Curtis, and Mary Timmons were unable to attend.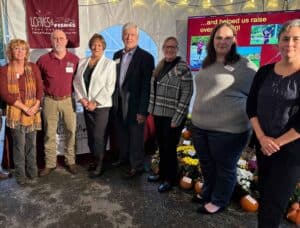 The staff were happy to attend as well!
Pictured from left to right:
Tara Hanley – Food Coordinator
John Cauley – Assistant Food Coordinator
Patty Stern – Executive Director
Bill Loehfelm – Client Counselor
Grace Miller – Client Services Coordinator
Mellissa Richard – Senior Administrative Assistant
Eileen O'Dea – Volunteer Coordinator
Thank you to our partners –   Great Road Farm & Garden, New England Stageworks, Carlson Orchards, and Littleton Community TV, and to the many volunteers who made the Annual Meeting such a success!