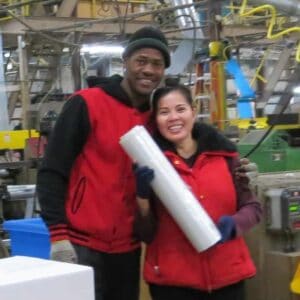 Berry Global donates a variety of plastic bags they manufacture for various purposes around the Pantry, including the bags used for our kids' supplemental summer food bags.
Most recently, they donated over 20,000 bags to make the Postal Worker Food Drive possible! The Postal Worker Food Drive, happening on Saturday, May 13th, is one of the biggest food drives of the year to benefit the Pantry.
"Providing individuals and households with food access is about as basic a need as there is. We know that whatever we do to support them goes quickly and directly back out to those in need."
– Owen Richardson, VP and General Manager
A huge heartfelt thank you to Berry Global for their ongoing support which keeps the Pantry running smoothly!
Find out how YOUR business can support the Pantry – contact Patricia Stern, our Executive Director, for more information