What is the Neighborhood Food Project?
It's America's first neighborhood-based food donation program!  Every two months, volunteers go door-to-door, picking up food from their neighbors.  It's the easiest, most effective, most empowering way to organize community support for local food banks and pantries.
The NFP was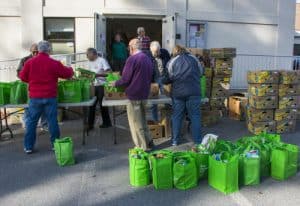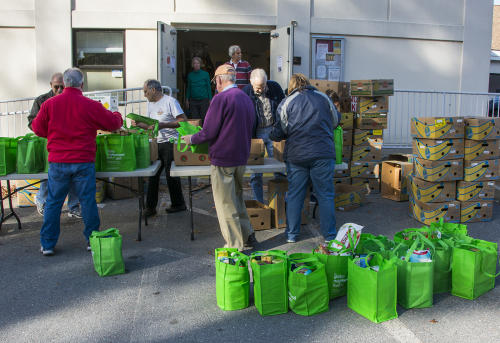 founded in Ashland, Oregon in 2009, and today there are more than 30 Green Bag programs around the United States!
The Town of Groton began a pilot NFP in 2014, and they are going strong adding new neighborhoods, collecting more food and truly making a difference.
In 2016, Loaves & Fishes decided to establish a program for Ayer, Devens, Harvard, Littleton and Shirley.  With the support of grant funding, we too have been successful!  In 2019, we added Dunstable to our service area.
Our hope is to continue to expand this effort, with your help, we can do just that!
HOW CAN YOU HELP?
If you reside in Groton and would like to help, please take a look at The Groton Neighborhood Food Project's website by clicking HERE:
If you reside in Ayer, Devens, Dunstable, Harvard, Littleton and Shirley, please contact John Cauley at 978-772-4627, x318 or by email:
foodassist@loavesfishespantry.org

.
The 2021 Neighborhood Food Project Collection dates:

January 16* – this collection has been suspended due to the high number of COVID  cases. It is our hope that we will be able to resume this program soon; we will keep you posted. Questions – contact John at the phone number and email listed above.  Thank you and stay safe! 
March 6
May 1
July 17*
September 18*
November 6
*moved to avoid holiday