The Grande Award for Outstanding Volunteer Service was established in honor of Ray and Judy Grande, longtime, dedicated volunteers of Loaves & Fishes.  This award recognizes an individual who has gone above the call of duty in serving the mission of the Pantry.  It honors a person who has made an extraordinary gift of time and skills, who has been with the organization for many years, and who is responsible, flexible and represents our diversity as an organization.  This person is a leader and deserves our deepest gratitude for the countless ways he or she serves our clients.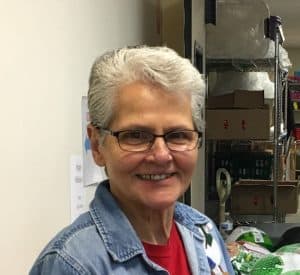 This year's recipient is Aldea Choquette!  She is a very special lady who has truly made an impact this past year.  She has been dependable, flexible, a very hard worker and a cheerleader for the Pantry – the true definition of a leader.  Her kindness and compassion is unmatched and we are very fortunate to have her on our team.
Congratulations, Aldea!