A huge thank you to three of our wonderful partners who turned our Friday the 13th into a great day!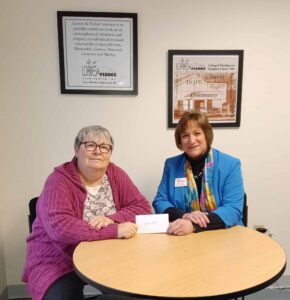 Meredith Marcinkewicz from SHIRLEY ARTS! dropped by for a visit with Patty Stern to present the proceeds from their Holiday Concert. They sang their hearts out and raised a nice amount which will be put to good use.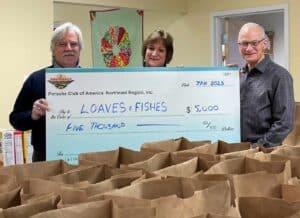 Chris Ryan and Jeff Johnson, representing the PORSCHE CLUB OF AMERICA – NORTHEAST REGION, made their annual donation. Their group is one of eight car clubs that run Autocross events at Moore Airfield (Ayer) on weekends from April through October. They like to support the community as a way of saying thanks for being able to use the facility. We truly appreciate their support.
Tom Donaruma, from MIDDLESEX CORPORATION (Littleton), visited for a quick tour of the Pantry and to deliver a contribution which will definitely help us restock our shelves through the cold winter months.  Tom told us that Middlesex Corp regularly supports local non-profits – we're glad they chose Loaves & Fishes!