Clients sometimes have questions about new uses for familiar ingredients or what to do with an unfamiliar ingredient. We'll share recipes and links to recipes here and we'd love to hear your favorite recipes for some of our fresh produce and other ingredients. Drop off a recipe next time you're at the pantry and we'll publish it here.
An example of what can be made from simple items available at Loaves & Fishes
A great resource for finding recipes is AllRecipes where you can search for recipes several ways. One way you can search is by listing ingredients you have and ingredients you don't want to use (AllRecipes Ingredient Search). You can even specify that you only want recipes that can be prepared in a specific amount of time or specific meals like lunch or dinner or even specific courses like an appetizer, main dish or dessert.
Click 'N Cook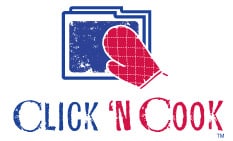 A Client Shared a Cookbook!