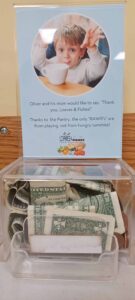 Thanks to our many hosts (listed below) and their customers, the coin canisters have collected over $6,000 since July 2022! Every little bit helps, no donation is too small.
Contact us at office@loavesfishespantry.org or 978-772-4627 ext. 300 to find out how YOUR business can become a coin canister host and help feed our neighbors like Oliver and his mom!
A BIG SHOUT OUT TO THE FOLLOWING LOCAL BUSINESSES!
Archer Mobil, Ayer
Archer Mobil, Littleton
Aubuchon Hardware, Ayer
Aubuchon Hardware, Littleton
Blood Farm
Connections Physical Therapy
Country Butcher & Deli
Craven's Liquor
Du's Tailor and Cleaners
Filho's Cucina
Great Road Farm and Garden
Great Road Liquors
Groton Market
Haffner's
Harvard Family Pet Clinic
Harvard General Store
Harvard Therapeutic Massage
Jack O'Lantern Liquors
Littleton Liquors
Moison Ace Hardware
Moore Lumber & Hardware, Shirley
Moore Lumber & Hardware, Ayer
Net Variety & Liquors
Professional Hair Design
Rapid Refill
Shin's Dry Cleaning and Alterations
Shirley Package Store
Sorrento's Pizzeria
Tiny's Restaurant
The Vineyard
Westward Orchards
Wok N Roll