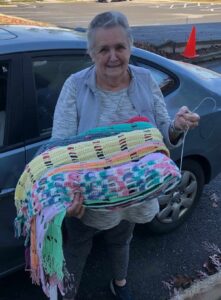 Our client, Rita, is very grateful for the groceries she receives. She wanted to give something back, so she worked very hard creating beautiful scarves to gift to our wonderful volunteers. Our hearts are touched by your thoughtful kindness, Rita!
So many of our clients give back in so many ways. Many donate what they can, even if it's "only" $1. Knowing how much that $1 meant to the person donating it makes us appreciate it all the more.
They are our biggest ambassadors to the community, too! They spread the word about the abundance of groceries they receive and most importantly, the hope!
We are so lucky to be able to serve such an amazing community!