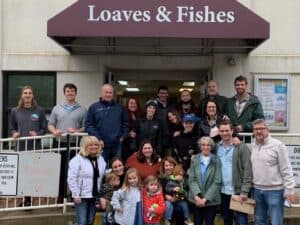 This one-of-a-kind family has been supporting the Pantry for many years. Their story is touching, their hearts are big and they always put a smile on our faces.
Russ and Ann Davis have been supporters of Loaves & Fishes since the 1980's. They wanted to instill a sense of gratitude and giving in their five daughters so they made it an annual family affair to donate groceries to the Pantry on the day after Thanksgiving. When Russ passed in 2008, the "sisters" felt it was important to carry-on this tradition to pass on Russ' spirit of giving and to keep him close in their hearts.
The Davis Family has grown to include their five daughters, their husbands, 13 grandchildren, five great grandchildren with one more on the way! It's amazing to watch as their caravan makes its way into our parking lot. There is always chatter, hugs, smiles and clearly lots of love as they go about moving hundreds of pounds of groceries from their vehicles to our loading dock. This year they donated 848 pounds of groceries!
Our most sincere thanks to the Davis Family – you make us smile and remind us that there IS good in this crazy world of ours!!