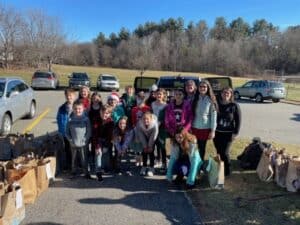 Many of our local schools, including students at Swallow Union Elementary School, pictured above, collected over 3,000 pounds of food for the Pantry this holiday season!
Contributors included the students at Littleton Middle School, with 693.7 lbs of food; Russel Street Elementary in Littleton, with 350.2 lbs of food; Groton Dunstable Regional High School, with 91.2 lbs of food; Florence Roche Elementary School in Groton, with 485.6 lbs of food; Swallow Union Elementary School in Dunstable, with an astounding 1360.8 lbs of food; and Maple Village Preschool in Dunstable, with 87.7 lbs of food.
Thank you so much for your hard work and support of the Pantry!